Virtual Tour Chateau Regency 和乔丽晶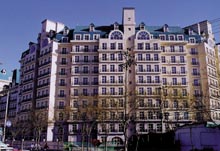 134sqm 2br USD2000-2500
170sqm 3br
Located near Lido Place on Jiang Tai Road, Chateau Regency is a magnificent building, featuring classical European style architecture with a beautiful central garden. It has two buildings (10 and 19 storey), which offer 395 spacious units, ranging from 1 to 4 bedrooms with very high standard decoration. These brand new apartments offer the residents comfort and the commitment of the professional management. Green view and modern elegance - Chateau Regency is a perfect combination for comfortable life.
Top quality brand new interior decoration, good quality imported furniture, central air-conditioning, typical butler services, underground carpark, beautiful central garden
Developer: Chateau Group.
Managed by: He Qiao Property Management Co., Ltd.
Management Fee: USD 1.50/sqm/month. (subject to change)
TV Channels and Fees: HBO, CNN, Phoenix, Star Movies, MTV, Korea, Europe. Free of charge.
Facilities: No facilities, a Lido Country Club membership card can be provided.
Parking Fee: USD 140/month
Completion: February, 2000.
| | | |
| --- | --- | --- |
| Type(Br) | Area(sqm) | Rental(USD) |
| 1Br | 81-84sqm | USD 1,600-1,800 |
| 2Br | 134sqm | USD 2,000-2,700 |
| 2Br | 171sqm | USD 3,000-3,500 |
| 3Br | 167-171sqm | USD 3,000-3,500 |
| 4Br | 272sqm | USD 4,500-5,000 |
| Duplex | 272sqm | USD 4,500-5,000 |
Mobile / WeChat:
+86-13801087331
freena_c21@yahoo.com